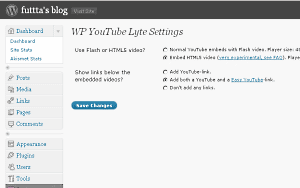 I re-implemented newTube.js, an earlier experiment to embed HTML5 YouTube video, into my WP YouTube Lyte plugin. This means that WP YouTube Lyte (for easy lite YouTube embeds, reducing download size & rendering time substantially) can now also use the HTML5-based YouTube video-player to play your embedded video.
If the -experimental- HTML5 option is enabled, WP YouTube Lyte will embed HTML5 YouTube video if:
Your visitor uses a browsers that supports the h264 (Safari, Chrome, IE9) or WebM (currently development versions of Chrome, Opera and Firefox) video codecs
Your visitor is enrolled in the YouTube html5 beta
If these requirements aren't met, your visitors will see a Flash-based version of the YouTube video you specified.
As newTube.js is sort of a dirty hack which replaces the LYTE dummy player with an iframe with overflow:hidden, in which the full YouTube-page is carefully positioned to display only the player, there are some other caveats to take into account as well:
But apart from all this small print, is works rather nice if I may say so myself. Or better still, just look at this little They Might Be Giants gem embedded here;
They Might be Giants-Birdhouse In Your Soul