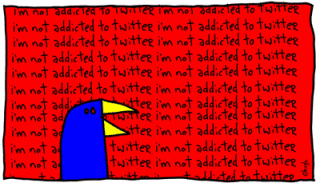 Indien ik zou twitteren, dan had ik de afgelopen dagen misschien het volgende getetterd;
@blogologie: Skyfire doet flash zegt ge? Amper, probeer maar eens een flash-spelletje te spelen. En traag dat dat is!
Mensen die mijn naam googlen en zo op mijn blog terecht komen, zouden die aan het "researchen" zijn voor de RFP die ik uitstuurde?
@eskimokaka: Atheïsten zijn ook maar agnosten die geloven dat ze het beter weten.
Beseffen bloggers die hun commentsysteem vervangen door Typepad Connect of Disqus dat search crawlers dan helemaal geen commentaren meer zien?
@lvb: "Wordt Obama een Clinton of een Carter?" is een interessante titel, maar waarom gaat het artikel daar dan niet over?
Over Skyfire (eens kijken of ik een network sniffer kan vinden voor Symbian) en de social comment-hype heb ik het later nog wel eens, peins ik.