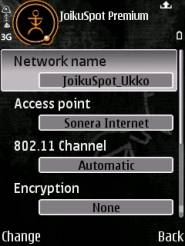 This weekend I had to resort to Joikuspot (software that turns your 3G-cellphone into a wireless gateway to the internet) for my web-needs. Because I encountered a few problems setting up a connection from my Ubuntu laptop, here's a quick recap for documentations sake.
The rather fundamental issue was that I couldn't get my computer (a Dell D620 running Ubuntu 8.04 with the iwl3945 driver) to join the ad-hoc wifi-network which Joikuspot (on a Nokia e61i) created. As connecting from my wife's Windows XP laptop did work, I googled around a bit and it turned out I had to specifically set the channel used by Joikuspot to 1 or 6 instead of "automatic" or 11. Although NetworkManager still seemed confused, this did allow me to connect from the command line (disabling wireless networking in NM first and then using iwconfig and dhclient). But why joining an ad-hoc wifi-network on channel 11 doesn't work in Ubuntu, that I still don't know.
Once connected to the wireless network, I found out that Joikuspot Light requires your browser to auto-detect a proxy. The proxy in Joikuspot seems to be used to limit the functionality of the free version and gently push you towards the non-free Premium product. As my normal web-connection came back soon after I figured this out, I didn't bother to test if I could tunnel my way out of those limitations. But crippled or not, Joikuspot is great to have around when your broadband connection is down.