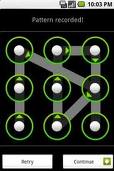 Your smartphone probably contains a wealth of information of personal and professional nature, which you would not want others to have access to. This is why (after losing my HTC Hero a couple of months ago) I now try to follow 2 out of these 3 simple rules:
don't lose your smartphone.
if you lose your smartphone, make sure you have something in place to locate it
if you lose your smartphone and you can't locate it, make sure you can wipe it remotely
There are multiple solutions to locate & wipe smartphones (including HTC's Sense online offering), but for my Sense-less HTC Magic I installed "Lookout". Lookout is a free application that provides device location, contacts backup & restore and apparently also malware protection. If you're willing to pay $3/month, you also get remote wipe, remote lock and backup/ restore of pictures and call log. If you lose your Android-phone, you just log in to the Lookout-website to locate and optionally lock or wipe your handset.
I'm happy using the free version for now; I activated Android's pattern lock-screen to avoid anyone from accessing my handset and deactivating Lookout. Remote wipe is great, but I guess I can activate my Lookout Premium account if ever I need that feature?