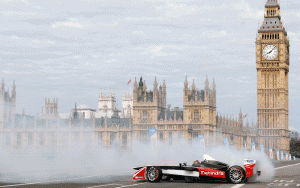 I always felt somewhat torn between my love for F1 and my political/ ethical green-leftist point of view, so I was very glad to learn about "Formula E" earlier this year. This new competition focuses entirely on identical (a Dallara chassis and a Mc-Laren engine, next year other constructors will be allowed) electrically-powered single-seat racing cars, competing on street circuits in major cities around the world.
So how will that work out? Won't the lack of engine noise (you might remember the heated debate about the quieter engines in F1 earlier this year) hamper the "ambiance"? Aren't those cars way slower then F1 and won't racing be less spectacular that way?
Well, past weekend the first e-Prix took place in China (Beijing) and it was a great race with lots of close racing, exciting overtaking and one very heavy crash between P1 Nicolas Prost and P2 Nick Heidfeld seconds before the finish with Di Grassi taking a victory he did not really expect any more at P3. You can watch the full race here or, if you have less time, enjoy this fan-made summary;
httpv://www.youtube.com/watch?v=Yy3RGHE4F0c
We'll have to wait for over a month for the next race, but I'll be on the lookout for more electrical racing-excitement!