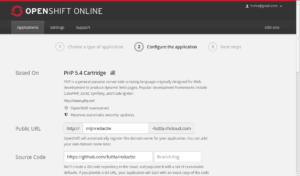 Ook al kunt ge mijn alternatieve mobiele redactie hier bekijken, dan zout ge toch, om redenen die geheel de uwe zijn, misschien liever uw hoogst persoonlijke redactie hebben?
Wel, dat kan in 5 eenvoudige stappen dankzij Openshift, het freemium PAAS platform van Red Hat en dat gaat ongeveer zo:
Maak een gratis account aan bij Openshift
Klik op "Create your first application now"
Vul PHP in in het zoekvenster en selecteer de PHP 5.4 cartridge
Vul een naam in voor de public URL, copy/paste https://github.com/futtta/redactie in het source code veld en klik op "Create application"
Even geduld terwijl uw eigenste redactie wordt aangemaakt. In het laatste scherm kunt ge eventueel git access configureren ("Will you be changing the code of this application?") of direct op "Visit app in the browser" (in mijn geval naar http://mijnredactie-futtta.rhcloud.com/) klikken.
Spreading the news, tiens!