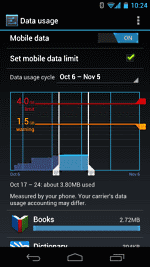 Last week I flashed my Samsung Galaxy S II with the official Android 4 firmware from Samsung. Here's some information and semi-random thoughts about the upgrade and my Ice Cream Sandwich on Samsung-experience so far.
About the upgrade:
What Ice Cream Samsung is like:

Battery life actually seems a bit better than with the Gingerbread-based firmware.
Ice Cream Sandwich seems slightly faster as well, more responsive.
ICS isn't all that different, from a user interface point of view. Some small tweaks and usability improvements, but nothing major.
Face unlock (having Android unlock your phone after recognizing your face) is a nice gadget, but it's of little use if you value security.
More interesting, from a security point of view, are "encrypt device" and "encrypt SD card". Should give that a try.
The data usage app is really great, allowing you to monitor and manage data usage for the entire device and on a per-app basis. "Data Usage" is, as far as I'm concerned, one of the hidden treasures in ICS!

Tailoring ICS to my liking:
So I'm good, for now. But I'm sure I'll be very tempted when Cyanogenmod 9 for the Galaxy SII comes out. Go TeamHacksung!