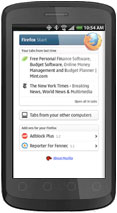 I've always enjoyed riding the Firefox-bandwagon and that hasn't changed, even though Google Chrome seems to be the browser of choice amongst the cool kids nowadays. And if only because I'm a faithful guy, I've been running Firefox Mobile ever since I bought a Samsung Galaxy SII as well. Sure it doesn't do Flash, but I'm not that Flash-inclined anyway.
Now, I haven't met too many people that use Firefox Mobile and indeed when reading about mobile browsers, Firefox is rarely if ever mentioned. But what if I told you that Firefox Mobile is by far the best browser on mobile when taking performance, features and security into consideration?
I won't beat around the bush, here's the pretty objective data.
Some remarks:
the hardware is pretty comparable; all dual-core CPU's and plenty of RAM.
higher is better, except for Sunspider which measures time (in microseconds).
I've got no screenshot or URL of the google v8 test results on my phone, but I'll be glad to reproduce.
sunspider and v8 are javascript performance benchmarks.
html5test is an indication for support of "modern" browser features (html5, css3 and much more).
the features of the browser GUI arent't measured byhtml5test, but I'm pretty pleased with Firefox Mobile in that respect as well; great tabbed browsing, plugins (including noscript!), sync-ing of all relevant data between desktops & mobile, …
I added Opera Mobile and Dolphin HD to the list. Opera's not too shabby but not a winner either?
And last but not least; as Firefox Mobile isn't native and since it's on the same (crazy) rapid release cycle as the desktop-version, I consider it to be a lot more secure when compared to the slow evolving, rarely updated native browsers in Android and iOS.
My advice; if you're an Android-user and you've got a recent handset or tablet, you really should consider switching to Firefox Mobile. It's the best mobile browser no-one is using! Except for you?