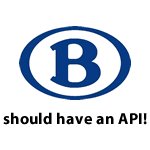 This weekend I joined the Facebook-group "NMBS should have an API". The NMBS (or SNCB, for the route planner) and Infrabel (for railtime) have data available that is very relevant for their customers, but this does not really translate in great applications, does it? Wouldn't it be better for public companies such as the NMBS to focus on exposing their data/ business logic and less on the presentation, allowing 3rd parties to connect to their API's to create innovative new applications?
Just image what kind of sexy, useful applications that could be created this way. Here's 5 to start with:
A mobile application that can

plan your rail-travel based on your current GPS-position and the destination you enter
adapting your route while "on rails" in case of delays of current or next train

A Netvibes-widget containing basic route planner and railtime funcionality. Netvibes is great by the way, their widgets can be deployed in Netvibes, iGoogle, Live.com and standalone on any site, but also on your Mac OS X and Vista desktop. I build a very simple LinkedIn widget almost a year ago. It's actually little more then a wrapper around their mobile site, but according to the Netvibes stats it's installed by more then 1200 users. Great potential!
mytrain.be: a personalized website for daily commuters:

register and select the train(s) you use on what days of the week
receive warnings by mail/ sms in case of delays
automatically propose alternative routes in case of delays

A sexy mashup of real-time train info and Google Maps, as already seen on http://swisstrains.ch/ (great to look at, not sure it's that useful though)?
A trainusers-application integrating into social websites, allowing you e.g. to hook with fellow-travelers on Twitter or Facebook while on rails?
So indeed, NMBS and Infrabel, give us API's and enjoy the great stuff that'll be build on it. And if you're reading this and you would like to use or develop applications based on such data, join that Facebook group!