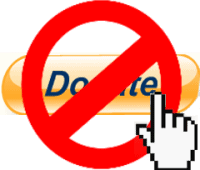 Some people ask me if they can donate for my software. My answer invariably is they can't, because I don't want money. Instead I would like them to make a small donation to a good cause!
Why? Well, I'm a very lucky guy, living in the richest region of one of the richest countries of the world and having a full-time job that allows me and my family to live a comfortable life. Software is "just a hobby" which I hope is a small contribution to make the web (and by extension the world) a slightly better place.
So given that context and given the fact that there are many ways in which the world could be made a better place, I would like to ask you to donate any amount of money you think my little projects are worth to a good cause. Just pick one, click and donate!
And there are many, many more great causes both locally and internationally that can use our help!