There are not enough movies that really floor me. Everything, Everywhere, All at Once did. Go see it!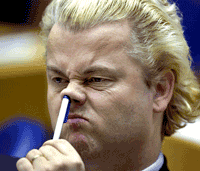 Geert Wilders' "Fitna" is uit en om Pieterr te citeren:
Probeer maar eens te zoeken naar de film die Nederland nu al maanden in de ban houdt … Honderden en honderden voorbeschouwingen, parodieën, of helemaal-niks-mee-te-maken filmpjes als resultaat. […] Expliciete bedoeling: de argeloze (buitenlandse) Googelaar verzuipen in de zoekresultaten en vooral ook laten kennismaken met mensen die het niet met Wilders eens zijn. Keyword spam als politieke actie, 't zijn tijden. […] Als we nu eens met z'n allen zouden gaan linken naar bovengeciteerde Youtube-prijswinnaar met woorden als "Fitna, The Movie", of "download Geert Wilders Film". Zou dat geen kleine bijdrage zijn voor de verstandhouding zijn in de wereld 🙂 ?
Absoluut, bij deze! En zo heb ik de titel, die me deze ochtend te binnen schoot, kunnen gebruiken zonder dat ik me teveel met het onderwerp heb moeten bezighouden. De film zelf bekijken is voor één van de volgende dagen, dan kunnen we ons ten gronde uitspreken, ook altijd handig, toch?