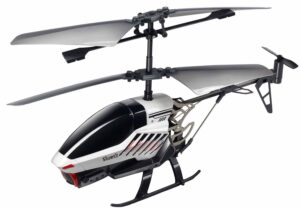 Jongensdromen, tja, hoe gaat dat? Het ene moment zijt ge 7 en ge zoudt -ondanks dat kleine probleem met uw bijna blinde rechteroog- piloot willen worden. De seizoenen wisselen, en voor ge het weet wordt ge 15. Uw bril is niet het enige praktische bezwaar tussen droom en daad, want blijkens uw schoolresultaten zijt ge niet echt de slimste van den hoop. Maar het leven gaat voort, computers en hormonen wenken en ge stapt verder, de grote mensen-wereld in. Doen alsof ge ergens iets van kent, op het werk. Verliefd, verloofd, getrouwd, een huisje, een tuintje en een koppel gekortwiekte kiekens ook. En een kindje, een lief klein dochterken.
Een paar weken voor ge alweer verjaart, begint dat kindje met blinkende oogjes vragen te stellen. Of ge graag met speelgoed speelt. Of ge zoudt willen kunnen vliegen en of dat dan met een vliegtuig of toch liever met een helikopter zou zijn. Uw vrouw probeert het te verbergen, maar ge ziet dat ze achter haar boek zit te grinniken.
Die zondag, de dag voor uw verjaardag, hoort ge vrouw en kind regelmatig fluisteren en lachen en als ge na het avondeten terug binnenkomt van bij de kiekens, staat uw fantastische wederhelft daar met een groot cadeau in haar handen. Ge scheurt het papier er van rond en ge zijt zo blij als een 7-jarig jongetje als ge ziet dat ge een helikopterken op afstandsbediening hebt gekregen. Vliegen lukt nog niet héél goed, maar plezierig is het zeker! Terwijl ge op de trein naar het werk een semi-nostalgisch verjaardags-blogpostje schrijft, verheugt ge U al op uw thuiskomst bij vrouw, kind en helikopterken. De kiekens, die wachten wel, wegvliegen kunnen ze toch niet meer.