10 years after it became irrelevant (one of the first blogposts I wrote that generated discussions & traffic), Flash is now officially buried;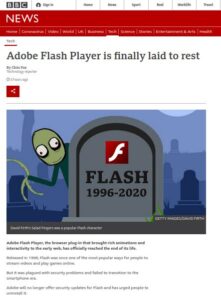 Little over a year ago I must have been smoking some weird shit when writing that Flash would become irrelevant in 2010. Because after all, this is 2011 and there's still plenty of Flash for Adobe aficionados to make a living and the famous html5 video codec issue hasn't been fully sorted out yet either. So I was wrong, was I? Well, … not really!
Apple still stubbornly refuses Flash on the iPhone and more importantly the iPad, Microsoft's Internet Explorer 9 joined the HTML5-crowd in full force and even Adobe is going HTML5 with support in Dreamweaver and in Illustrator and with a preview of Edge, "a tool for creating animation and transitions using the capabilities of HTML5".
But is was only in December 2010 that I knew I was dead on with my prediction, when I overheard this conversation at work between a business colleague and a web development partner:
Business Colleague: I would like a personalized dashboard with some nice-looking charts in my web application.
Web Development Partner: No problem, we'll do it in Flash!
Business Colleague: No, we want this to work on the iPad too!
The year technology-agnostic decision-making business people started telling suppliers not to use Flash, that was the year Flash became irrelevant and "the open web technology stack" (somewhat incorrectly marketed as HTML5) took over.